Looking For Our Events Calendar?
This page contains articles about events.  For dates and times, visit the calendar.
Regina Wheelchair Relay November 3rd 2018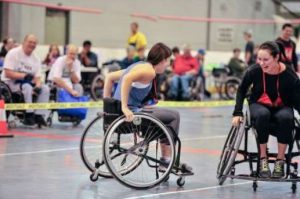 Regina Wheelchair Relay
November 3 2018
10:00am – 2:00pm
Round up your team of 4 and join us at this fun filled event where individuals, families, friends and coworkers come together and participate in the Wheelchair Relay.
Your pledges will go directly toward providing opportunities for people with spinal cord injuries and other physical disabilities through Spinal Cord Injury Saskatchewan.
Teams will compete for the rights to hoist the trophy!
Location: Mamaweyatitan Centre, 3355 6th Ave
For more information contact Sandy Doran at: sandydoran@scisask.ca OR Visit: www.scisask.ca

After a short hiatus, Wheelchair Relay is back!
---
Family friendly event, with a kids area and kids wheelchair races throughout the day
---
Family friendly event, bring your kids to check out the entertainment booths!
---
Teams of 4!
---
Start pledging today!
SPINAL CORD INJURY SASKATCHEWAN
---
3928 Gordon Rd.
Regina, SK.
306.584.2650