2019 LA Charities Scholarship Recipient- Nigel Fernandez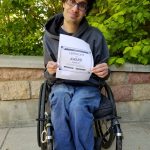 Saskatoon resident Nigel Fernandez, one of two recipients of the 2019 LA Charities Scholarship. In this article Nigel shares his story and the impact the scholarship and support from Spinal Cord Injury Saskatchewan has had on his post secondary education and future plans and goals.
My name is Nigel Fernandez and was unfortunately diagnosed with a primary brain tumour and consequently was given radiation therapy to delay future growth. I was told that since I will be treated as a child, that there was no hope of even entertaining the idea of starting university due to the dramatic permanent loss of brain cognitive functions required for post-secondary education.

I completed six radiation treatments to the brain and spinal cord. This resulted in a slow neurological decline and the outcome was Spinal cord Injury and brain Injury. Despite these challenges and against all odds, I figured out a way to attend university even if it meant embarking on a new journey as a cancer survivor.

This was not an easy task. For me, this means studying for hours and hours every day with not a minute to spare. I record all lectures and use a screen reader to view all my textbooks. It is essential for me to preview all the material before and after class, review all lectures while preparing for mid terms and exams all at once. This is vital in order to be successful in academic life. Furthermore, by reviewing and putting forth considerable effort, valuable information that is learned will transfer to different parts of my brain to function as it should.

Thus far, I have thirty three credits within the college of kinesiology, university of Saskatchewan. In the past, I have been a guest lecturer in Kinesiology 322: Theory of Movement and neuromotor control as well as in Neurology 1,2,3 with the school of rehabilitation sciences. All examinable. I have also published an article on Functional Electrical Stimulation in a Journal called synapse Neurosciences Division.  Some of my prior work can also be found in a brochure for Phillips Life Line and appeared in Neurology offices around the country. It is also worth noting that I have given a lecture with a colleague on Functional Electrical Stimulation which was even more remarkable considering it was originally pitched as something of the impossible.

Initially, Kinesiology was my field of study. However, since then I have shifted my focus to clinical Neuro Psychology. Within, this area I will be able to work closely with physicians to diagnose, treat, observe and rehabilitate others in a similar way that I have done with my own adversaries. In other words, be the change that you want to see.

This year I am the recipient of the Spinal Cord Injury 2019 L.A. Charities scholarship. To me, it symbolizes a very deep accomplishment not just as a student but as a human being that has overcome and continue to prosper and flourish. At just 30 years old, I have given presentations, lectures, attended many classes and of course have written an abundance of midterms and exams. The cost of attending any post secondary education is substantial for any student never mind for someone who lives with Neurological Injury. Examples of such include assistive technology, transportation and any potential attendant care or other related costs. By accepting this award, I now have all supports I need to achieve my goal of attending and fulfilling my education endeavors. Thank you L.A. Charities. Together, let's develop the tools necessary to treat neurological injury one spark at a time.
Together, let's develop the tools necessary to treat neurological injury one spark at a time.

Nigel Fernandez
Thank you to Chris Letts and Andrew Arguin, and the LA Charities Golf Tournament for providing funds to the LA Charity Scholarship. For more information about the LA Charities Tournament and future LA Charities Scholarship opportunities here.