Looking For Our Events Calendar?
This page contains articles about events.  For dates and times, visit the calendar.
Chair-Leaders 2017-Reflection, Perspective and Gratitude
It's hard to believe that Chair-Leaders 2017 was just over one week ago.
42 individuals across the province took up the Chair-Leaders challenge.
Workplaces and businesses got a new perspective on the challenges and barriers of workplace accessibility.
Now the lenses through which they view accessibility and inclusivity has been shifted. It is our hope that this shift will cause a tiny ripple that will soon become a wave.
The Chair-Leaders initiative is an initiative that engages businesses and workplaces to create greater awareness of the challenges faced by individuals with mobility disabilities. These challenges are often seen as differences. Separating us and them. But these differences presented opportunities and an invaluable perspective for everyone involved.

"It was challenging and did require considerable more planning in daily tasks and routes. And also the degree to what is considered and advertised as accessible has significant variation from one facility to the next and that accessible does not necessarily mean fully accessible or barrier free." 2017 Chair-Leaders Participant
Given real information and support, real answers to real questions, people will consider disability in a different light. With greater respect and equity, and a higher expectation for what is possible. With this new awareness and the natural partnerships springing from newly formed open lines of communication, many of our communities will becomes knowledgeable in ways that assist them in redesigning their programs and places to best meet the needs of all citizens.
 "It provided a unique perspective on the challenges of using a wheelchair in our environment.  More people need to be involved in this event." 2017 Chair-Leaders Participant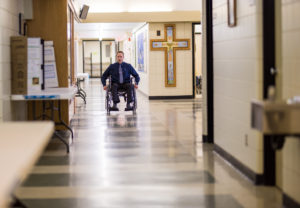 When the community as a whole becomes aware of the need and ways to be most welcoming to all its members, people with disabilities will no longer feel or be relegated to special programming held at or through disability-related organizations. It will all, from our perspective, be happening "out there," in a community, by and through the community. Spinal Cord Injury Saskatchewan's role within the community will be to continue to provide that ongoing support, information and awareness.
"Was a humbling and challenging experience." 2017 Chair-Leaders Participant
If community leaders have no real connection to disability: no history or experience either personally or through acquaintances, can we expect them to understand anything beyond what they have read in books, seen in movies or heard from others.
This event and lived experience of those we represent, helps us to share the real life challenges and successes, through this WE CAN CREATE A NEW AWARENESS.
The awareness that was gained from Chair Leaders 2017, will change our workplaces, neighborhoods, communities and our world.
Thank you to all our leaders! Here's to making an even bigger ripple next year!
Images courtesy of Jay Scott Photography