Looking For Our Events Calendar?
This page contains articles about events.  For dates and times, visit the calendar.
Day of Giving Regina and Area Thursday August 27, 2020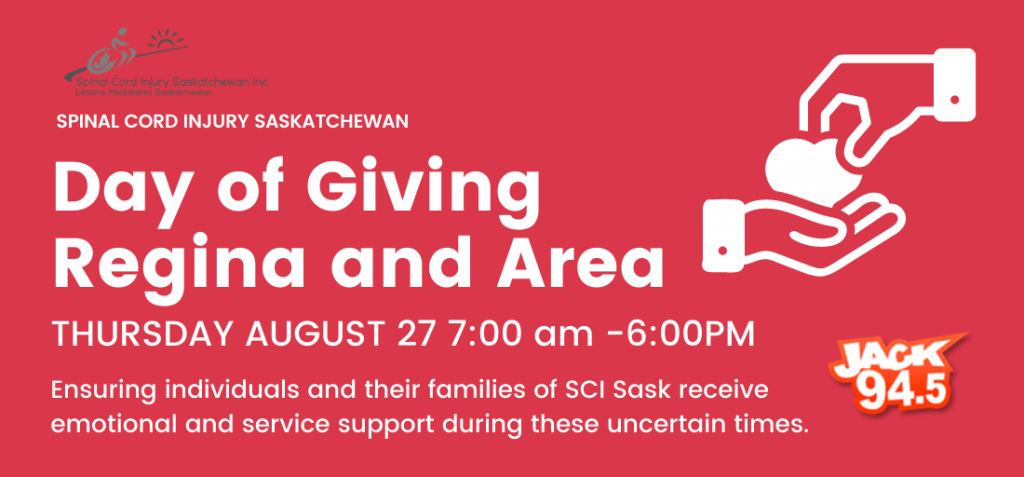 In partnership with Jack 94.5 FM SCI Sask presents the Annual Day of Giving Regina and Area, ensuring individuals and their families of SCI Sask receive emotional and service support during these uncertain times.
"To assist individuals living with spinal cord injuries & other
physical disabilities to ensure safety, physical and mental wellbeing,
and access to services and full community participation"

On August 27, call 306.584.0101 to donate.
All donations are greatly appreciated.
"Our mission continues to remain the same, we are committed to ensuring our clients receive the emotional and service support during this uncertain time of social isolation, " said Launel Scott, Executive Director, "the Day of Giving gives us the opportunity to reach out to the community for the financial support we need to do our work."
To Sponsor the SCI Sask Day of Giving, Contact Aaron by email at: aaronwright@scisask.ca.
---
I have had the pleasure of partnering with SCI Saskatchewan and attending some of their community events. They are a great resource for anyone living with a spinal cord injury. SCI Saskatchewan are also incredible advocates for the disability community. I'm looking forward to seeing everyone again once the world opens back up!

-SCI Sask Client, Regina

"When I was a young new spinal cord injury peer mentor ship was a defining moment that made my life what it is today. If I didn't have another person in a chair to talk about things that no one else would understand I wouldn't have been able to come out of my shell and realize that there is a life worth living from a chair."

-SCI Sask Client

---
SCI Saskatchewan is my go-to community contact agency. When I need help with a disability program SCI helps me become my own self advocate. SCI is about empowering people and focusing on abilities. As an organization of and for people who live with a disability SCI understands first-hand the needs of the community of persons with disabilities. SCI knows we want to live independently in the community. During this pandemic SCI checked on how I was doing. Thank you, SCI, I am doing just 'tickety-boo.'

-SCI Sask Donor, Regina
---
I am an HR Manager with a Master's degree and many years of professional experience. I have been married for 19 years, has 1 son, 4 step children, and 10 grandchildren. I have had a spinal cord injury since infancy, nearly 50 years ago.

Although her disability is not considered progressive, one of the things that happens over time when you are a long-time wheelchair user, is that the disability impacts become more significant. Due to medical issues, I incurred many additional disability-related expenses such as a wheelchair accessible van with adapted head and neck supports, and power-assist wheels for for her wheelchair this year, she has also been on long term disability during this time.


The financial benefits of the SGI vehicle rebate and the SaskTel cellular plan are helpful in offsetting some of these financial costs. Every little bit helps when incurring expenses that are extremely high and on a fixed income.


Support to Spinal Cord Injury SK would go a long way to supporting individuals experiencing the impacts of disability to live and work in our chosen communities. Thank you for your support.

-SCI Sask Client Regina
"When you have a spinal cord injury, your world can be complicated and full of unpredictable health issues. In my experience, that can lead to loneliness and sometimes hopelessness. Spinal Cord Injury Saskatchewan recognizes that reality and has provided me with interaction with my peers who have shown me I'm not the only one struggling. They have offered me support, ideas, and even brainstorming to help with solving problems. To me, the single most important part of their organization is the community they've created; I feel connected, and that's priceless."

-SCI Sask Client
"Being a peer mentor has help me help others gain independence and enjoyment with living with a disability. I know how much my message can help others, But on the same note they also help me and push me to be a better person and to continue to use my experiences to enlighten others."

-SCI Sask Client
On August 27, call 306.584.0101 to donate.